I am cleaning house. My mom-in-law, so tidy, arrives today. Plus, I am tired of tripping over my own supplies.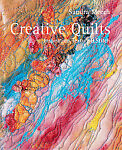 So. The basement entrance is now lined with yard-sale items (Barbie corvette, anyone?). I even pried some beads, fabric, yarn and lace loose from my studio. I'll never miss them. Letting go reveals the stuff they were piled on.
Since I love ebay but can't be bothered to sell there, I'm posting these and other books on
Half.com.
I tell each buyer thank you: you help this artist stay in business.